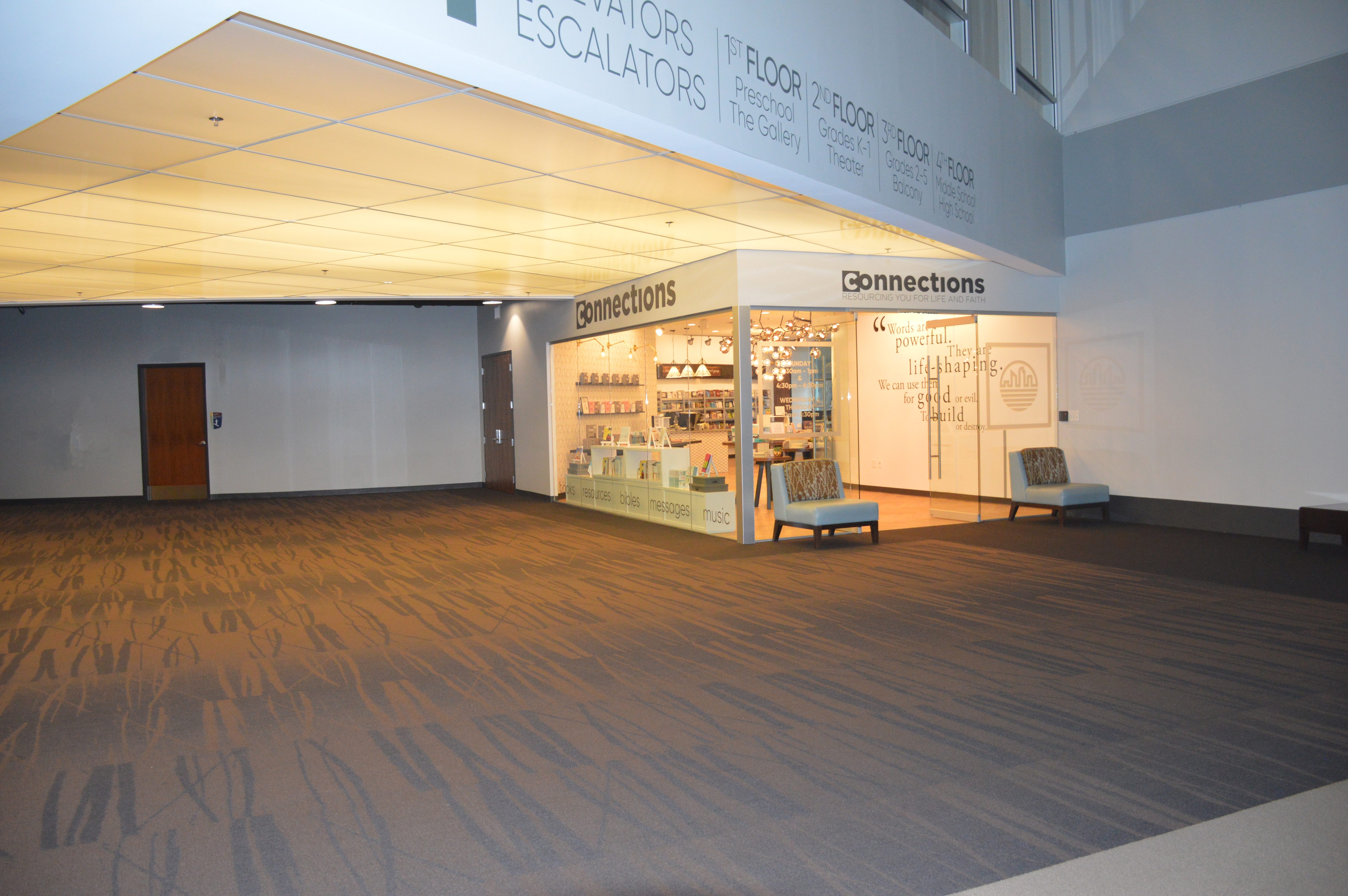 Bradfield, Richards, Rhodes & Associates most recent interior renovation project at the Buckhead Church in Atlanta is almost complete. This is the third major interior renovation project we have undertaken in this building. The first phase of this project was completed just before the 2017 New Year; while the second phase is currently under construction, and is scheduled for completion by the end of February, 2017.
North Point Ministries, Inc. opened the Buckhead Church in its' current Tower Place location in 2007. As the need for retail bookstore space within the church has lessened, the need for multi-purpose meeting/gathering space has grown. BRR&A was commissioned to renovate the existing bookstore into this new multi-purpose space (the future "Gallery") and search for other areas of the building that may function as the new bookstore.
There was no existing space in the church that would allow for a quick renovation into the new bookstore, but BRR&A did see potential in an unused section of the building, directly off the main sanctuary. This was a "pre-function" space that could be converted to their bookstore.
The area had some unused space, some square footage being utilized for table & chair storage, and a seldom used back corridor – with an exterior curtain wall! We selected this spot due to its great visibility once completed, and since it would allow natural light into the existing dark corners of the room. It was seen as the perfect new location. By opening up this dark corner to the exterior curtain wall and carving out room needed for the new store, we were able to deliver a new, more vibrant bookstore without encroaching on the existing Pre-function lobby.
The Buckhead Church and its' previous bookstore location had been difficult to find, and had gone unnoticed by visitors. The architects of Bradfield, Richard Rhodes and Associates, with the assistance of Kristen Butler Design (Athens, GA) – NPMi, were able to create a new, vibrant bookstore in that space. Many long-time attendees discovered it for the first time, after the relocation and remodel made it more visible. The new 1400 square foot bookstore now accommodates all desired floor space for merchandise and displays while also offering visitors the ability to move about and browse through all the offerings.