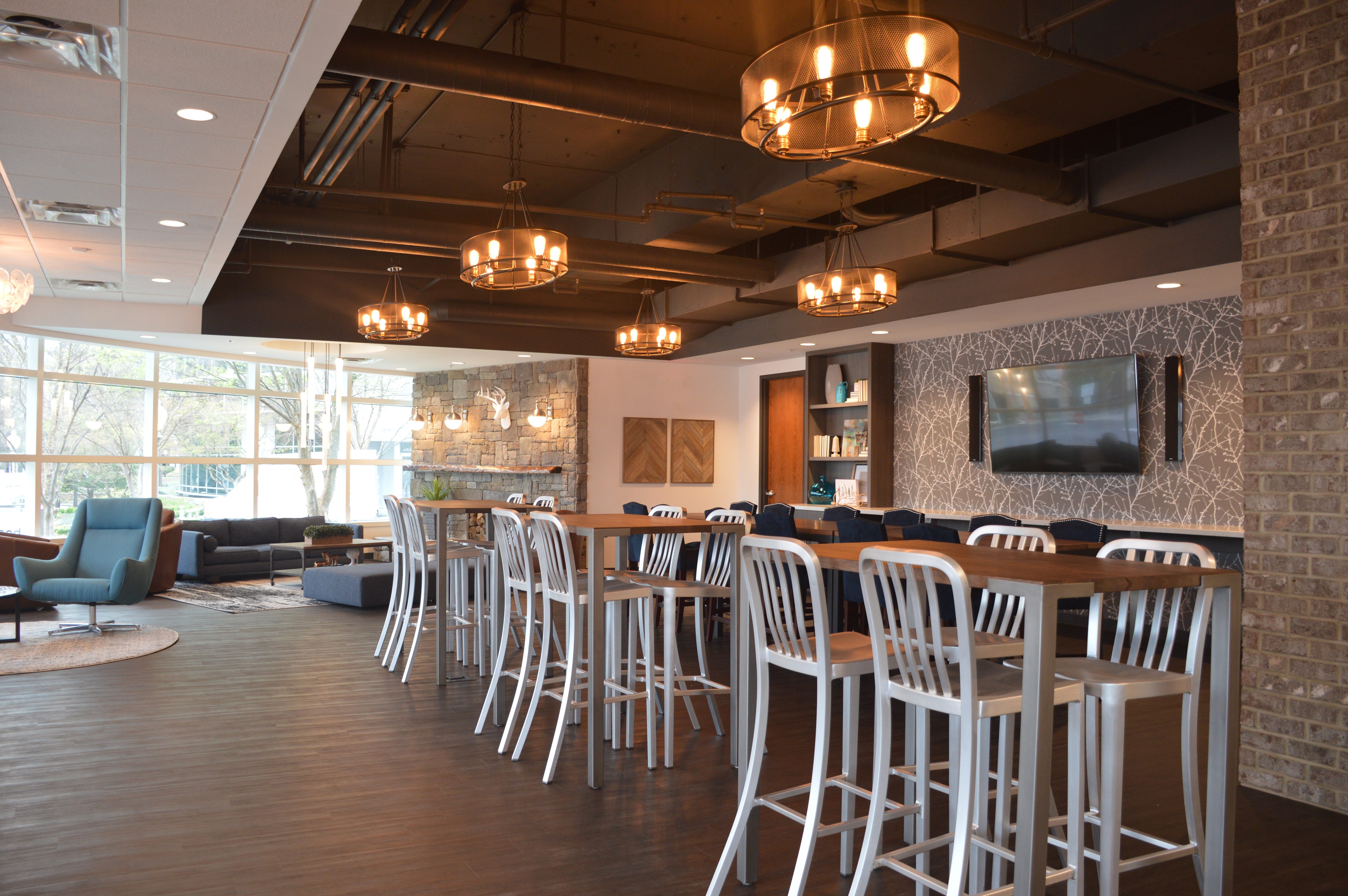 And that's a wrap! (almost)
The interior renovations at the Buckhead Church are in the final punch list stages. The project, expected to be completed on March 5, 2017, is only awaiting the arrival of the (5) drum fixture pendants in the new Gallery's presentation area and some other final finishing touches. Temporary pendants were selected and installed in the room so that it could be used before the final fixtures arrive.
The completion of the project means that the staff at the Buckhead Church have the large multi-purpose meeting space that they have long been in need of. The room will serve to welcome new guests after/before normal weekend services and will serve as a larger conference room and presentation space during the week.
All of the existing media and point-of-sale casework was removed and the interior finishes were completely demolished. We chose to expose some of the existing ceiling plenum space in the main presentation portion of the room to ad volume in an area that previously had low drop ceilings and banners. The lighting in the space is multi-zone so that no matter the type of seating arrangement being used in the room, there is a lighting arrangement to accommodate the need at that time. LVT was used as the finish flooring to keep the project budget lower, and rugs were selected to accent distinct seating areas within the room.
New casework was designed and built to highlight the presentation speaker area, add the ability to offer beverages to guests, and offer plumbing to the staff in an area that previously did not offer that option. A new faux fireplace and "fireside" seating zone was created off the main presentation area and a drop gypsum board ceiling was added with specialty lighting and furniture to offer a distinctly different area for more quiet/intimate conversation within the larger space.
"We love our new re-purposed meeting space! Watching the transformation from a bookstore to a multi-use space was nothing short of impressive. We now have a perfect environment for our staff and volunteers to gather as it exudes the kind of quality and excellence we seek to inspire in them as they serve our church and city." Billy Phenix – Lead Pastor